Support Children's Hospital Colorado
November 6 - 14, 2015
Sheraton Denver Downtown is proud to support Children's Hospital Colorado during Denver Arts Week. Denver Arts Week celebrates the Denver's arts and culture scene. From arts, theater, music, museums and more, the Mile High City has it all.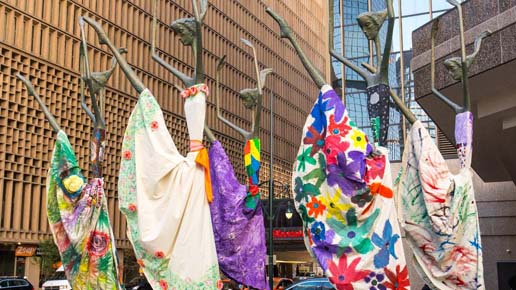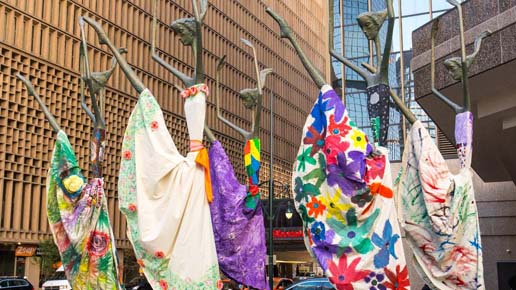 More about The Sculpture Dress Project
The ballet dancer sculptures were created for the entrance of the hotel by artist Ruth Keller Schweiss, whose works have been displayed in such places as the Tate Gallery in London and the National Academy of Design in New York City. The ballerinas are fashioned out of wire mesh, wire fabric and hardware cloth covered by epoxy clay. The artist described the sculpture as an "uplifting spirit in exultation" and study of grace.
When the plain muslin dresses arrived at Children's Hospital Colorado, they were treated like blank art canvases. Using a variety of materials, patients were encouraged to express their artistic vision. Creating art is remarkably therapeutic; it builds confidence and offers patients an outlet for their own personal identity. The hospital's art therapists utilized three of the dresses as part of their work with three individual patients. The other two dresses were collaboratively decorated by two groups of patients; the Youth Advisory Council and the Center for Cancer and Blood Disorders. Approximately 50 children and staff lent their artistic abilities to the project.
"Children's Hospital Colorado is delighted to partner with the Sheraton Hotel Downtown on this wonderful project. As I watched a dress being finished with last few flourishes of paint, I saw the artist-patient light up with a proud smile." – Heidi Huisjen, Children's Colorado, Arts Coordinator
Details about the Programs/Units that participated in the project
The Ponzio Creative Arts Therapy Program uses the arts to help children express, create and heal in an open and supportive environment. Art, music, dance, movement and yoga become tools for communication, emotional release and ultimately, healing. The program works directly with each patient's clinical team to find the best approaches to healing. Whether a child needs individual, group or family therapy, the therapists customize a program designed to improve psychological, physical, cognitive and social functioning.
The Youth Advisory Council (YAC) the only program in the state of Colorado that provides an outlet for patients to advocate for themselves and other teens just like them. This Council is co-facilitated by A Certified Child Life Specialist with experience in the medical setting as well as an Outreach Coordinator for Pediatric Mental Health Pavilion. YAC is a group of 13 teen patients and teen siblings who have had experiences at Children's Hospital Colorado. Some patients have been treated at Children's Hospital Colorado for their entire lives and will continue to receive treatment until end of life; others have received treatment and have been successfully treated with the occasional outpatient follow up visit.
The Wellness Team at the Center for Cancer and Blood Disorders provides a continuum of care ensuring that families have adequate resources and strong coping skills to adjust to the challenges associated with a pediatric cancer diagnosis. A Psychologist heads up the team and provides supportive psychotherapy. Social Workers provide supportive psychotherapy and deal with psycho-social needs such as parent employer and insurance issues. Family Resource Specialist assists families with tangible needs such as housing, food and gas coupons. Child Life Therapists provide medical education to patients and siblings geared to the child's developmental age. A Creative Arts Therapist provides experiences in art, music and movement to aid the patients' symbolic expression of feelings surrounding their illness. A Chaplain assists patients and families with spiritual issues that affect coping with their illness. This multi-modality team works closely together with the medical team to provide integrated treatment for the whole family.